Well this has been an interesting weekend. Hurricane party Saturday night. No sense in waiting in lines that make Black Friday look orderly. So hit the liquor stores and beer distributors and ride it out.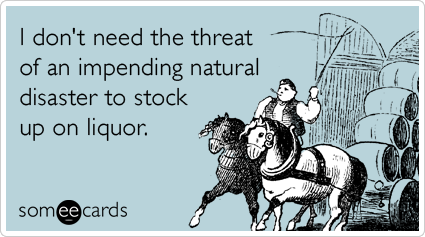 Softball tournament Sunday. Was awesome to see the boyfriend and one of our best friends win the championship for their division.
Reading Fall Softball Champions
So now I'm enjoying a little downtime and waiting for Hurricane Sandy. I'll see how much work I can get done before I possibly lose power. Ooo I should check to see if my school posted anything about this, good chance I won't have class tomorrow night if this thing is as bad as they're saying it's gonna be. Course the weather forecasters around here don't have a great track record.
Blizzard of '96 we were expecting a few inches and ended up with close to 3 feet of snow. That year I learned the meaning of cabin fever. I was happy for about a minute when my mom told me I didn't have school because of how much snow had fallen. Then she told me I had to go outside and find my dog. I had a Chihuahua/Jack Russell terrier mix named Bambi who decided to tunnel his way to the back corner of the yard so he could pee. Apparently the genius got too cold to walk back. So I suited up, followed his trail and had to tuck him in my coat and bring him back in the house. Next time he went out to pee he didn't go too far from the backdoor. That'll learn ya!
Well time to get some schoolwork done before I can't. If I lose power I'll be back when this hot mess is over with. Oh and very happy my Steelers won today!